Dino Facts
The heaviest, the biggest, the smallest, the oldest... all the hottest dinosaur facts can be found here.
What do you call a dinosaur with one eye?
Doyouthinkhesawus.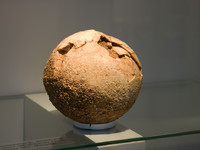 The Smallest Dinosaur Egg - How To Tell a Dinosaur Egg from a Rock?
Dinosaur eggs come in all shapes and sizes. They tend to be ovoid or spherical in shape and up to 30cm in length - about the size of a rugby ball. The smallest dinosaur egg so far found is only 3cm long. Once the egg has been fossilised it will become hard like rock, but it will retain a structure of its own.
The Smallest Dinosaur
The smallest fully-grown fossil dinosaur is the little bird-hipped plant-eater like lesothosaurus, which was only the size of a chicken. Smaller fossilised examples have been found, but these are of baby dinosaurs.
The Most Brainy Dinosaur
One of the most intelligent dinosaurs was Troodon. It was a hunting dinosaur, about 2 metres long, and had a brain size similar to that of a mammal or bird of today, stereoscopic vision, and grasping hands.
The Tallest Dinosaur
The tallest dinosaurs were the Brachiosaurid group of sauropods. Their front legs were longer than the rear legs giving them a giraffe-like stance. This combined with their extremely long necks, which were held vertically, meant they could browse off the tallest trees. Brachiosaurus - the most well known of the group - was 13 metres tall. Sauroposeidon was massive and probably grew to 18.5 metres tall making it the tallest dinosaur.
What do you get if you cross a Brontosaurus with fireworks?
Dino-mite!
The Fastest Running Dinosaur
The speediest dinosaurs were the ostrich mimic ornithomimids, such as Dromiceiomimus, which could probably run at speeds of up to 60 kilometres per hour.
The Oldest Dinosaur
The oldest known dinosaur is Saltopus. It was a small carnivore that lived 245 million years ago. Remains of this dinosaur have only been found in Scotland, so the UK might hold the key to the origin of dinosaurs.
The Longest Dinosaur Name
The dinosaur with the longest name was Micropachycephalosaurus meaning "tiny thick-headed lizard". Its fossils have been found in China, and it was named in 1978 by the Chinese paleontologist Dong.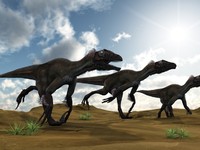 The Fiercest Dinosaur
Tyrannosaurus rex looked the most ferocious of all the dinosaurs, but in terms of overall cunning, determination and its array of vicious weapons it was Utahraptor that was probably the fiercest of all. Utahraptor measured about 7 metres, and was a very powerful, agile and intelligent predator.
The Largest Pterosaur
Quetzalocoatlus with its wingspan of up to 13 metres was probably the largest pterosaur, and hence the largest flying creature of all time. Despite its size it weighed no more than 100 kilograms. Its only contender may be Arambourgiania, which is only known from one bone but scaled up the whole pterosaur could have been even larger. Pterosaurs were not dinosaur.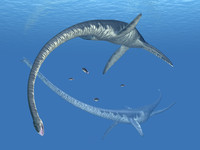 The Largest Plesiosaur
Elasmosaurus was the longest plesiosaur at up to 14 metres (46 ft) long. Half of its length was its neck, which had as many as 75 vertebrae in it (in comparison to 7-8 neck vertebrae in humans). Elasmosaurus had four long, paddle-like flippers, a tiny head, sharp teeth in strong jaws, and a pointed tail. Plesiosaurs were not dinosaurs but were marine reptiles.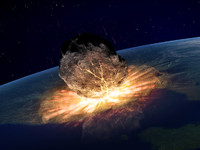 What killed the dinosaurs?
It is believed that dinosaur extinction was part of a mass extinction brought about by two massive destructive events. The first of these was the collision with the Earth of a meteorite landing in what is now the Yucatan Peninsula, of Mexico. This was followed by an enormous volcanic eruption which split what is now India in half.
What do you get if you cross a dinosaur and a skunk?
The biggest stinker you ever saw.
How many types of dinosaur were there?
At present over 700 different species of dinosaurs have been identified and named. However palaeontologists believe that there are many more new and different dinosaur species still to be discovered.
How many species of dinosaurs have been found in Britain?
So far 108 species of dinosaurs have been discovered in Britain. Britain was an important area during much of the Mesozoic Era acting as a 'land bridge' between North America and Eurasia. It became a hotspot for dinosaur evolution and migration. British dinosaurs include Megalosaurus, Iguanodon, Neovenator, Eotyrannus, and Cetiosaurus. The dinosaur Museum has the skeleton of a Megalosaurus and the skull of an Iguanodon on display.
Which is Britain's Oldest Dinosaur?
The oldest known dinosaur so far discovered in Britain is Thecodontosaurus antiquus. It was discovered near Bristol in 1970 but only now has funding been achieved to excavate the dinosaur. Thecondontosaurus was 2.1 metres long, about the size of a kangaroo, and ate plants. It lived on the richly vegetated islands that were around that area in Triassic times about 200 million years ago.
Why did the dinosaur cross the road?
Because chickens hadn't evolved yet.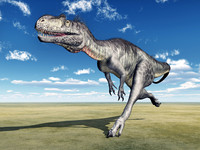 The First Dinosaur to be Discovered in America
The first discovery of dinosaur remains in North America was made in 1854 by Ferdinand Vandiveer Hayden during his exploration of the upper Missouri River. He discovered a small collection of teeth which were later described by Joseph Leidy in 1856 as belonging to Trachodon, Troodon, and Deinodon.
The First Dinosaur to be Named
The first dinosaur to be named was Megalosaurus. It was named in 1824 by Reverend William Buckland. Megalosaurus means 'great lizard' and it was about 9 metres long, and 3 metres tall.